The design world encourages and inspires us in almost every aspect of our lives, whether you realize it or not. It wasn't until recently though that modern and forward-thinking design became commonplace in the office space. How funny is that? One third of your whole life spent in the office, and no one ever bothered to spruce things up a bit? Well, things have changed. Modern companies are realizing more and more that their most important asset is their employees. As such, providing the right environment has been found as necessary to encourage the right culture and inspire greatness.
From green and renewable to modern and sleek, these companies have tailored some brilliant spaces to lushly accommodate their employees. I've parsed through hundreds and narrowed down a list of just 20 offices spread between 20 different countries – yup, that's one per country. Don't get too too jealous though; a lot of these companies could be hiring.
As we continue our 20 Inspiring Offices Around the World series, we hope that you continue to gain inspiration in all the right places.
9. Swatch Group Offices – Moscow, Russia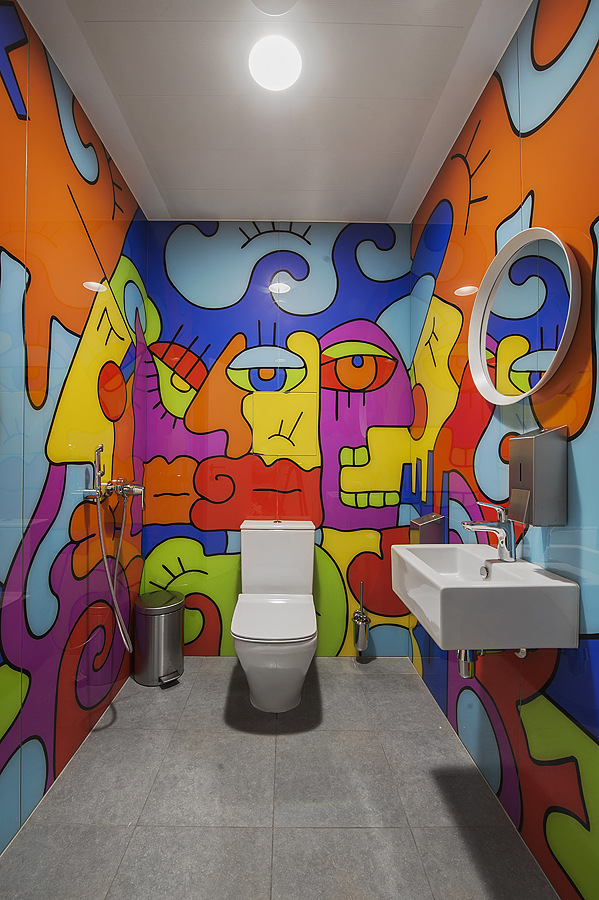 Photography by Olga Melekesceva from Office Snapshots
Swatch – known for their pure, fresh designs – stayed true to their style with new offices space for both corporate work and watch maintenance & repair. Stark contrast of black and elegant whites create the primary atmosphere, with occasional wood paneling as a third material to add softness. Dashes of red highlight the ceilings in passing pipes and light fixtures, and the walls are adorned with some of the largest, most kicking watches you've ever seen. We're talking life-size watches on the walls. While the primary offices and maintenance halls are quite defined in their aesthetics, the design team was given free reign on designing the restrooms. As such, ABD architects took full advantage by making each individual restroom (with one toilet and sink per room) as unique as possible. Much of the artwork was sourced using pre-existing artwork from artists who had worked with Swatch in the past.
10. Philip Morris Sabanci Marketing and Sales Inc. Office – Istanbul, Turkey
Photography is by Gürkan Akay from Office Snapshots
Here at the new PMSA marketing and sales headquarters in Turkey, design firm Mimaristudio creates a fascinating blend of technology and modernism with an industrial backdrop. Shades of brown and other muted colors such as lime green turquoise are splashed here and there, primarily through furniture pieces, while lighting and ceiling installments add an edgy, futuristic vibe. I'd almost call this design scheme as a new take on groovy. It's quite stellar.
11. Selgas Cano Architecture Office – Spain
Photography by Iwan Baan from Office Snapshots
Perhaps one of the most truly unique additions to this list is the Selgas Cano architecture office in Spain. The office is essentially a half-underground tube, putting employees at eye level with the forest floor. Inside the structure, you see a dichotomy initiated between the transparent and opaque portions of the glass ceiling. On the opaque side, a pure white covers the workspace, creating a clear separation from the transparent side which boasts bright shades of yellow and green, essentially binding that half of the office with the surrounding nature in spirit.
12. King Offices – Stockholm, Sweden
Photography by Joachim Belaieff
The new King offices, completed in 2015, take inspiration directly from Swedish forests – a vision thought up by Adam Schaub, Studio Manager at King. The forest theme is very evident and extremely well developed throughout the entire office, starting gently at the reception wall of Norwegian lichen and following through the entire office with features such as an interactive floor mimicking a natural stream, custom and reactive lighting that follows and changes with the seasons, and the heart of the open office concept which becomes a sculptural yet calmingly organic forest, complete with various levels of carpeted landscaping and trees silhouetted from pine wood. Adolfsson & Partners aimed to capture the inspirational and calming effects of the Norwegian forests, and dare I say, they succeeded.
---
Article by: Joseph Vint
A lover of learning and designer at heart, Joseph spends most of his time finding new passions and devising ways to share those passions with whoever he can. Find out what he's up at Structurespace and see what you've been missing in the world of design.
You can visit him here!
https://facebook.com/structurespace/
https://plus.google.com/104561784171714009790
https://www.pinterest.com/structurespace/